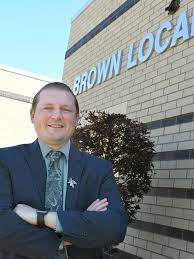 Mark Scott- Brown Local Schools Superintendent
Mr. Mark Scott is in his third year as superintendent of the Brown Local School District and his 22nd overall in education. Before Brown Local, Mr. Scott graduated from Muskingum University in 2001 with a Bachelor of Science in Elementary and Special Education. He has nine years of classroom teaching experience and 12 years of administration experience in his career.

In 2007, Mr. Scott earned his Master's Degree in Educational Administration from Kent State University. He began his administrative career in 2010 as a principal.
During his administrative career, Mr. Scott has also served as a Special Education Director.

In April 2020, Mr. Scott became the Superintendent of Brown Local Schools. During his tenure, Mr. Scott has successfully led the school district through the COVID Pandemic, increased district enrollment, and helped update the district vision, mission, and strategic plans to better serve the community and improve in all areas.

He is married to his wife, Olivia, and they have one daughter, Mackenzie, and a son, Anderson. The Scott family resides in the Malvern Community.
Superintendent's Message:
"It is a Great Day to be a Malvern Hornet!"
I could not be more excited about the future of Brown Local Schools. Brown Local Schools is a special place, with students, staff, and a community who take great pride in our school district and rich traditions. Brown Local Schools strives to provide an excellent educational experience and tremendous support systems for all students. I am proud to be the leader of Brown Local Schools, and there's no place else I'd rather be!
During the 2022-2023 school year, our school district will focus on implementing our improved district mission and vision. Our goal is to personalize education for all students and families while meeting the whole child's needs.
Vision: One family taking pride in all we do.
Mission: Brown Local Schools partners with the community and families to develop the whole child for lifelong success.
Healthy

Safe

Engaged

Supported

Challenged
We will work diligently daily to educate the whole child, focusing on student safety, academics, extracurricular opportunities, and social-emotional growth. Our student-first mindset will drive every decision we make.
On behalf of our Board of Education, our Administrative Team, and all our staff, thank you for choosing Brown Local Schools!
Go Hornets,
Mark Scott
Superintendent
Brown Local Schools
#MalvernPride